On MSNBC's Morning Joe today, Steven Rattner presented charts showing the vast amounts of money being raised and spent for the upcoming 2020 elections with Democrats recently showing impressive momentum.
Money isn't everything in politics but it's a useful barometer of the energy and motivation behind parties and candidates. And by that measure, the Democrats are having a strong spring. Let's focus on the key Senate races; Democrats need three seats to take control if Joe Biden becomes president and four if Donald Trump is reelected.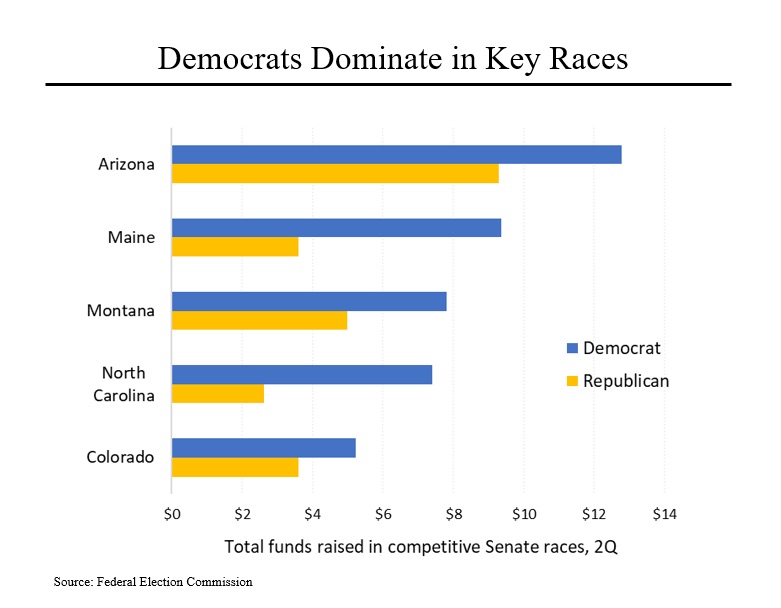 The Democrats have a starting advantage: Only 12 of their incumbents are up for reelection, compared to 23 Republicans. And only one Democrat is considered seriously vulnerable, Doug Jones of Alabama. In contrast, the Republicans have at least five Senators who are viewed as beatable – and all of those five lost the second quarter "money primary."
Start with Arizona, where Martha McSally, who lost a hard fought election in 2018 and then was appointed to succeed John McCain after his death, is being outraised by former astronaut Mark Kelly, the husband of former congresswoman Gabby Giffords. Just in the past quarter, Kelly raised nearly $13 million, compared to just over $9 million for McSally.
Then there's Maine, where Sara Gideon, the speaker of the Maine House of Representatives, raised $9.4 million last quarter, compared to just $3.6 million for Susan Collins. In Montana, Governor Steve Bullock raised $7.8 million, more than he raised for his entire presidential campaign. Incumbent Steve Daines trailed at $5.0 million. In North Carolina, Cal Cunningham raised $7.4 million, almost three times what Thom Tillis received. And in Colorado, another former presidential contender, raised $5.2 million compared to $3.6 million for Cory Gardner, considered perhaps the most vulnerable Republican.
What is also extraordinary about this election is the amount of money that both parties have been raising. Take Arizona, a small state with just 11 votes in the Electoral College, the two candidates have raised almost $75 million to date. (Kelly has also outraised McSally by this metric, $44 million to $29 million.) By comparison, in 2018, when McSally was running against Kyrsten Sinema, the two candidates had only raised a combined $16.3 million and ended up with a total of $35.6 million.
That same disparity is evident in spending, where McSally and Kelly have already spent $39.4 million, more than the total spent in 2018.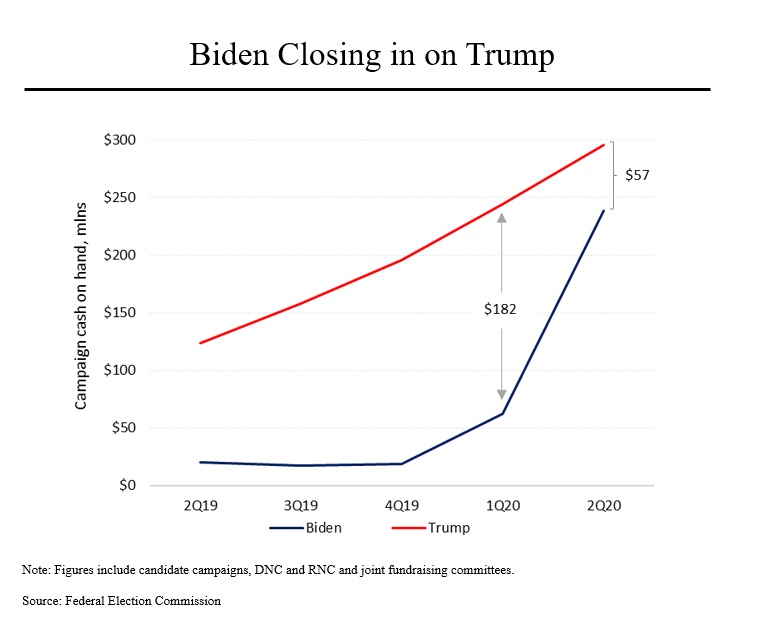 A similar picture is emerging on the presidential side. This chart shows cash on hand, a critical metric as the campaign moves into its final phase. And by this measure, the Democrats are also gaining traction. After trailing Trump badly during the party's tough primary contests, including by $182 million at the end of March, the challenger party has been gaining ground. By June 30, the gap (including campaigns, parties and affiliated committees) had narrowed to just $57 million. While the data is a bit squirrely, it appears that Biden raised roughly the same amount as Trump in the quarter but spent far less.