On MSNBC's Morning Joe today, Steven Rattner presented charts showing how an already slow improvement in labor market is facing new challenges from the upsurge in virus cases.
On Thursday, the Department of Labor reported another agonizingly slow improvement in the jobs market last week as the nation's economy struggles to emerge from the Covid-19 pandemic.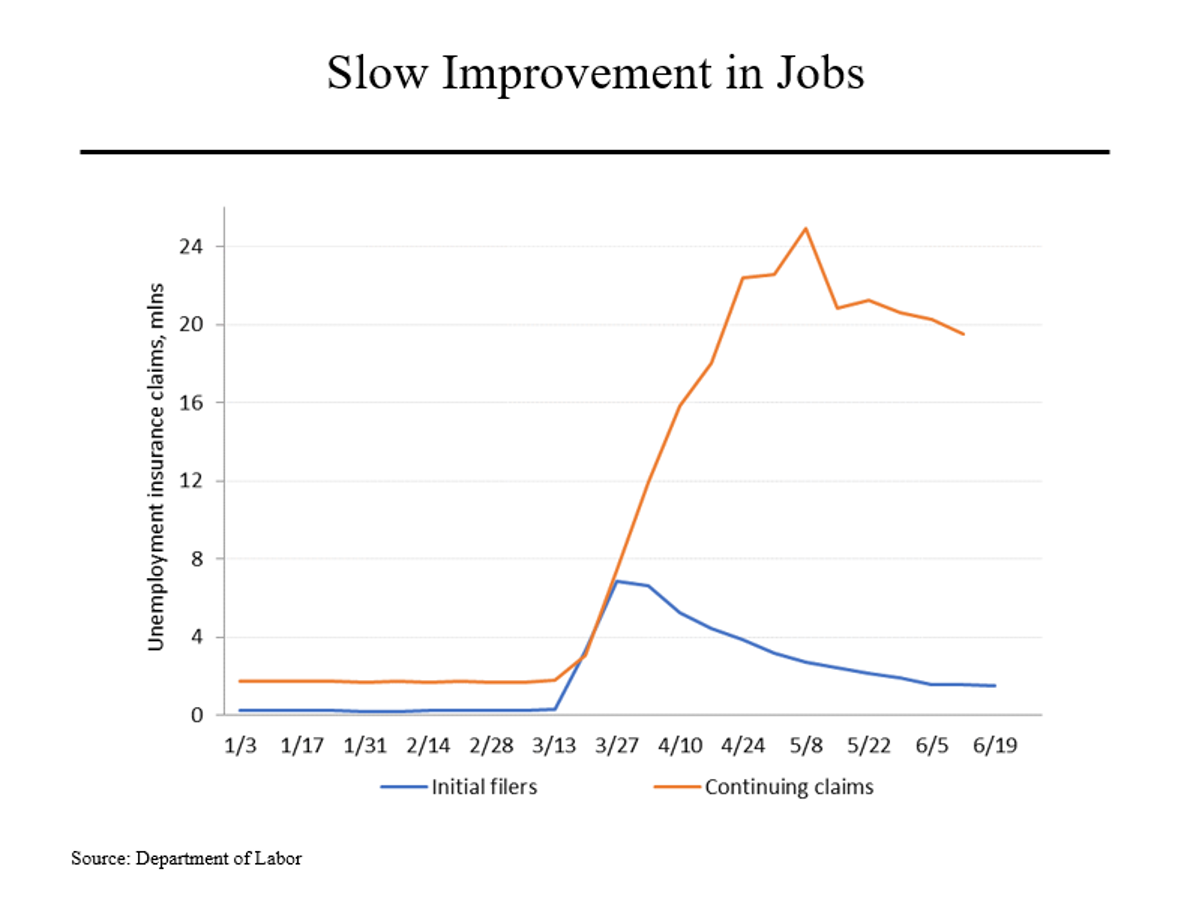 For the second week in a row, the number of newly unemployed Americans – 1.48 million — was modestly short of forecasts. Despite businesses beginning to reopen, the weekly loss of jobs has remained close to the 1.5 million mark for the past three weeks. As a frame of reference, before this crisis, this measure's previous record was 695,000 new filers in 1982. Even at the depths of the financial crisis, the highest level that this measure reached was 665,000.
Equally important to watch is the number of Americans receiving unemployment benefits in a given week. That number peaked at 24.9 million in early May and has just dropped to 19.5 million, still a stunning number. (The pre-virus record was 6.6 million in 2009.)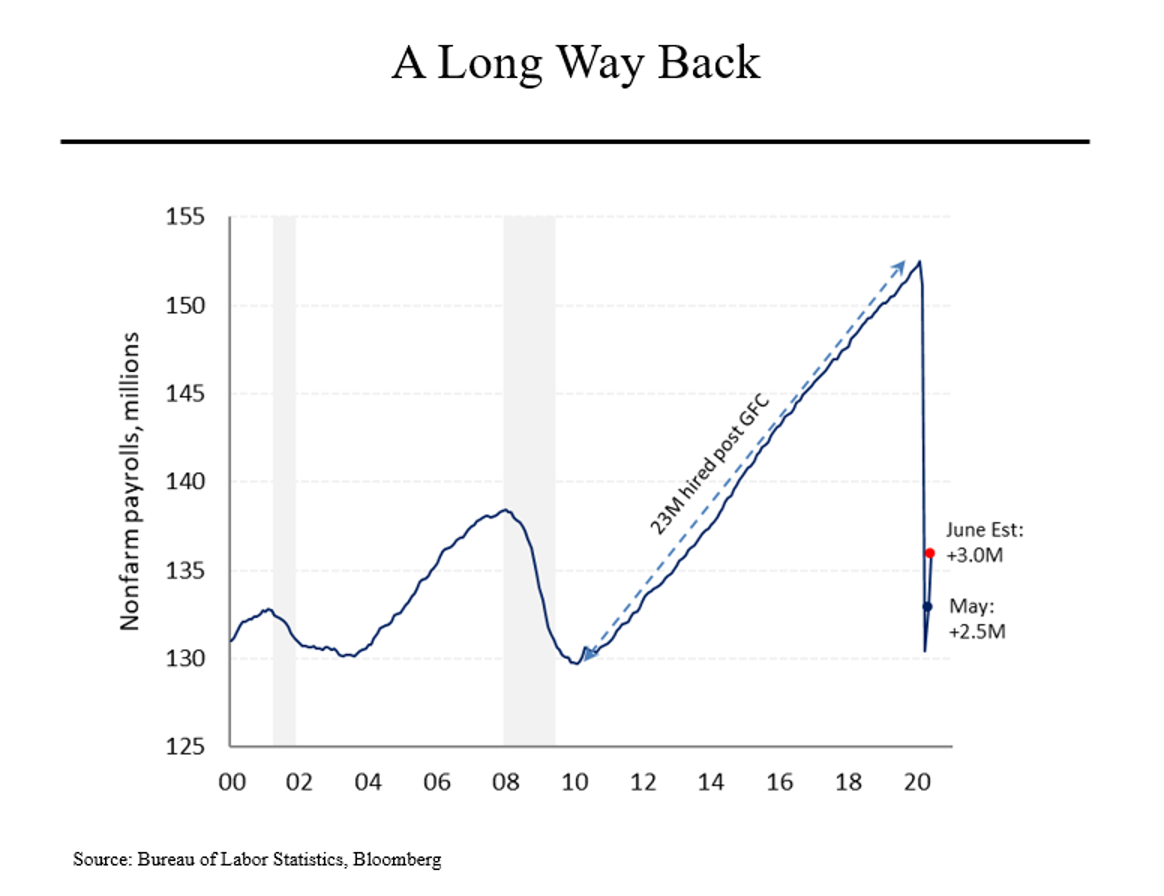 As the economy begins to recover, expect the White House to tout every positive number and downplay the rise in new virus cases as officials like Larry Kudlow, the chairman of the National Economic council, are already doing. But make no mistake — we are facing a long climb back. We had surprisingly good news in May, when the economy added 2.5 million jobs. And economists expect another 3 million jobs to be added in June. But prior to May, we had lost 22.1 million jobs, almost exactly the same number as was gained in the decade after the financial crisis.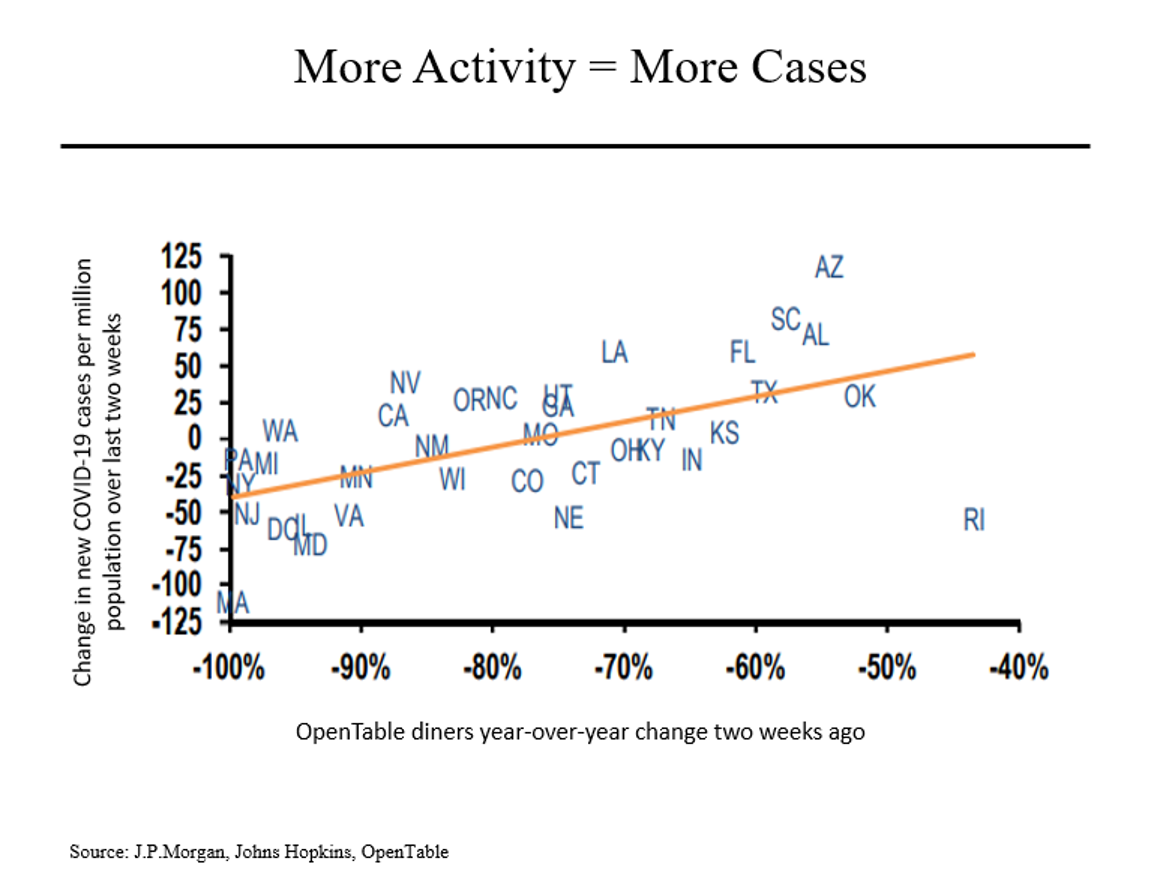 The conundrum that we are already beginning to face is that as economic activity resumes, the number of cases has been rising in tandem. This chart compares the change in restaurant dining two weeks ago using OpenTable data (the horizontal axis) to the change in the number of new cases per million population over the past two weeks (the vertical axis). States that have stayed locked down (including New York, New Jersey and neighboring states) continue to show a decline in new cases and virtually no resumption of restaurant dining. States where restaurants have partially reopened – including Arizona, Alabama and Oklahoma – are reporting the largest increase in cases.
This is the conundrum facing policymakers and what is worrying many economists and the chairman of the Federal Reserve, Jay Powell, who has repeatedly called for additional Congressional action to help the economy.