On MSNBC's Morning Joe today, Steven Rattner presented charts showing that while there are tentative signs of a turn in the labor market, the recovery will be years in the making – and for sure won't come in time for the elections in November.
As businesses begin to reopen across America, television and newspaper headlines have started to point to signs of life in the economy. Yes, we've probably hit the low point of economic activity but no, we're nowhere near anything that looks like recovery. When will unemployment normalize and what are the implications for the November election?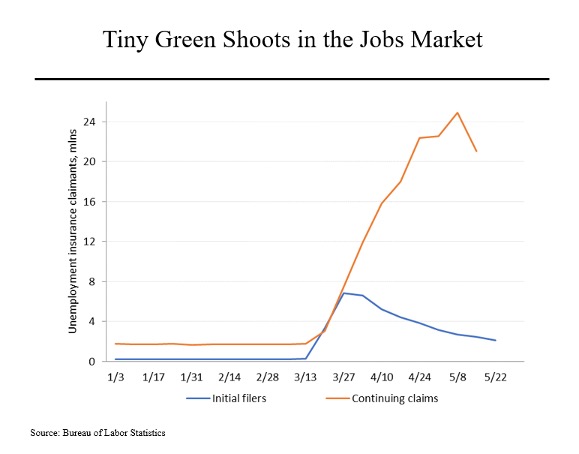 Yesterday, the Department of Labor reported that the pace of initial claims for unemployment insurance slowed for the eighth consecutive week while the total number of Americans on the unemployment rolls dropped for the first time since the pandemic hit. But that still leaves more than 21 million Americans receiving unemployment insurance compared to 1.8 million back in mid-March. Next Friday, the Bureau of Labor Statistics will report May figures and the jobless rate is expected to spike to nearly 20%, not so far from the Depression high of 25%.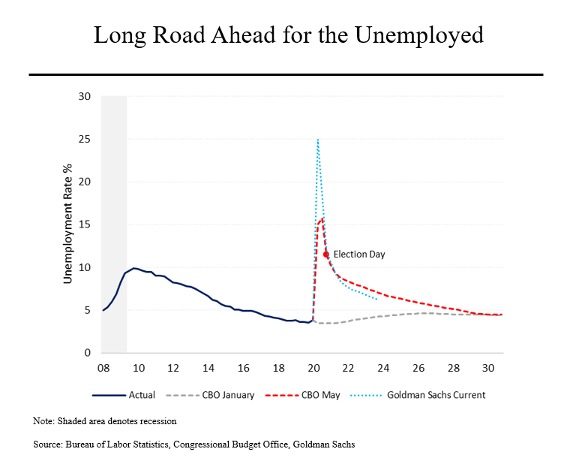 We may well reach that 25%, according to Goldman Sachs and other forecasters. And if the reopening pace accelerates, the rate could drop quickly, at least for a time. But we should expect the road back to be a long one. In November, as Americans go to the polls, the Congressional Budget Office and Goldman Sachs both estimate that well more than 10% of Americans will still be unemployed.
That's not all the bad news. The CBO doesn't expect the unemployment rate to return to where it was pre-virus at any point over the next decade.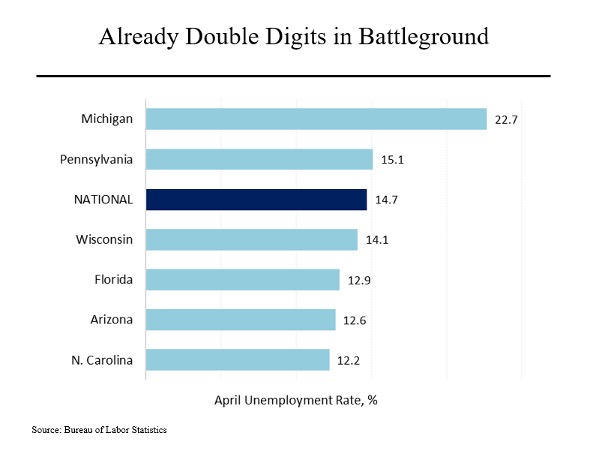 Comparing the current national jobless rate to the rates in the battleground states provide a sense of what voters in those key states will be experiencing. As of April, Michigan was in by far the worst shape, which more than 22% of its residents without jobs. Other key states (Pennsylvania, Wisconsin, Florida, Arizona and North Carolina) all had unemployment rates near or only modestly below the national rate.
Hard to imagine that voters going to the polls in those states will be feeling good about their local economies.