On MSNBC's Morning Joe today, Steven Rattner presented charts detailing how the rapid deterioration in employment has disproportionately hit women, low income workers and minorities.
With much of the country still shut down and little visibility as to when that will end, economists have been ratcheting up their forecasts for unemployment as new data shows how the recession is disproportionately hitting lower income Americans and women.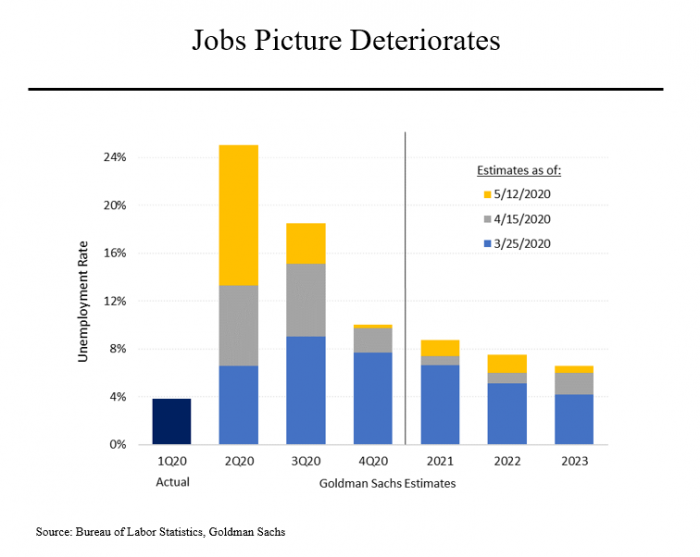 On Tuesday, Goldman Sachs dramatically increased its projected unemployment rate for the second quarter, to a stunning 25%. Just a month ago, the firm was expecting the jobless rate to "only" average 13.3% during the current quarter. (And in its March 25 projection, even as many Americans were sheltering in place, Goldman estimated that unemployment would be 6.6% during the same period.)
The firm has also been steadily raising its forecasts for unemployment over the coming quarters and years, albeit by smaller margins. Even in the fourth quarter, as Americans are going to the polls, roughly 10% of workers may be jobless. Nor does Goldman see the country returning to full employment for at least several years. Even in 2023, the unemployment rate may average 6.6%, far higher than the 3.8% rate that we enjoyed in the first quarter of this year.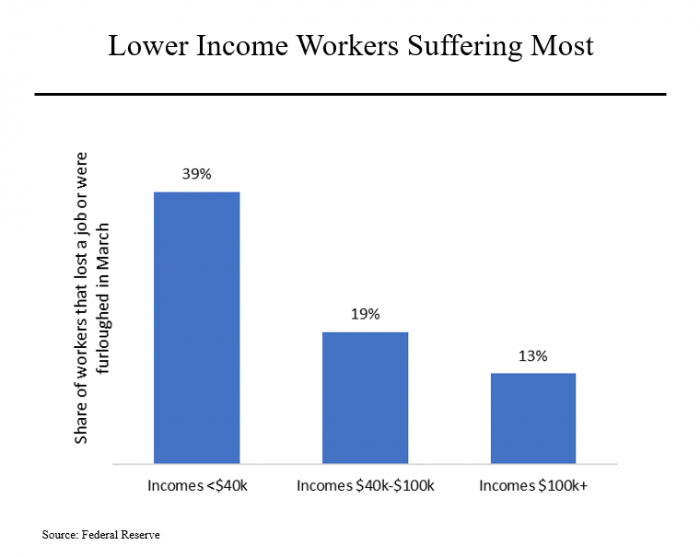 On Thursday, the Federal Reserve released a study showing how the recession that is now underway is disproportionately hitting lower income Americans. In March alone, almost 40% of workers with incomes below $40,000 either lost their jobs or were furloughed. That compares to 19% of those with incomes between $40,000 and $100,000 and just 13% of Americans who earn more than $100,000.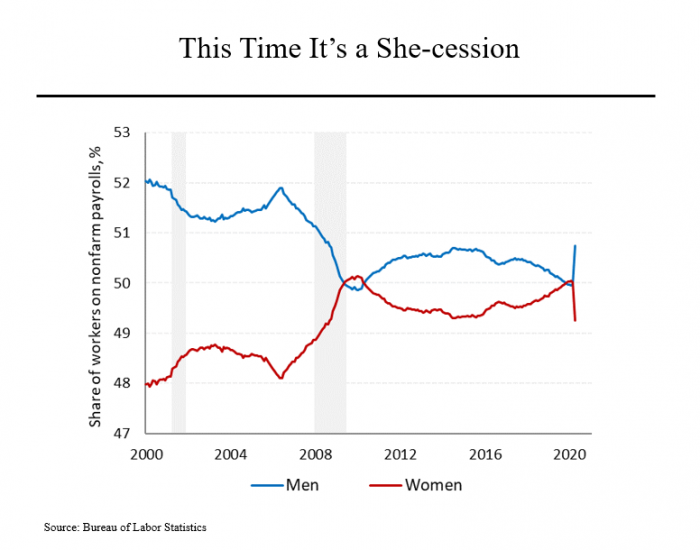 The 2008 recession was characterized by men losing their jobs in large numbers and the ranks of the employed becoming majority female for the first time in our history. This recession is unfolding in the opposite fashion; the percentage of workers who are women has dropped noticeably. That's because the industries hardest hit by the pandemic – leisure, hospitality, education and even some parts of health care – are disproportionately staffed by women (and minorities.) In contrast, the last recession was considered a "mancession" because that downturn was dominated by job losses in manufacturing and construction.