On MSNBC's Morning Joe today, Steven Rattner presented charts detailing the impact that coronavirus has had on the economy. Even if stay-at-home policies ease, conditions are unlikely to return to pre-crisis levels anytime soon.
Americans need to understand that even if the remain-in-place policies are eased, the economy is unlikely to snap back to anything like its pre-virus condition. We will almost certainly be looking at long-term damage, including double digit unemployment until at least the latter part of this year.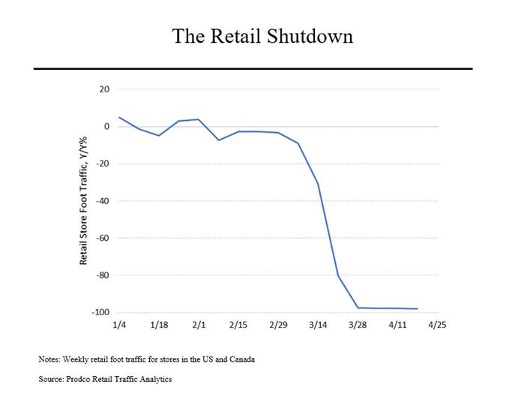 For starters, retail store traffic in the United States and Canada has dropped by 98%. That unwelcome news comes as traditional (offline) retailing has already been suffering. The consequences are certain to include many bankruptcies; Neiman Marcus (which also owns Bergdorf Goodman) and J.C. Penney are already headed there and even massive chains like Macy's, which also owns Bloomingdales and many other well-known brands, are desperately trying to secure rescue financing. Many retailers, from the largest malls to the smallest mom-and-pop stores, are likely to never reopen.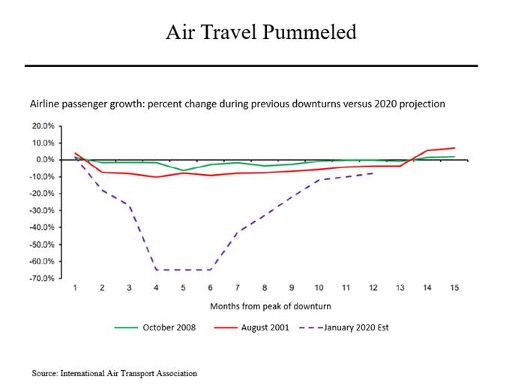 Then there's air travel, which has fallen by nearly 70%. It's interesting to compare what is happening to passenger counts today to what happened in the last two downturns, when traffic fell by far less, even in 2001 after the 9/11 attacks. What's important to note is that the International Air Transport Association does not believe that air travel will fully recover before at least next year. That's a tough outlook for the airlines and their employees. (Note that no forecast incorporates the effects of a second wave of Covid-19 virus infections in the fall.)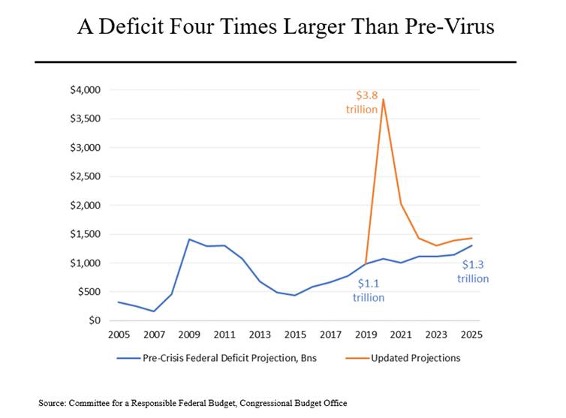 While fighting the economic effects of the virus remains our highest priority, we should be mindful of the fiscal impacts. With the passage of the latest rescue legislation — a $484 billion package centered on expanding the Payroll Protection Program — the deficit for the current fiscal year is now estimated to reach $3.8 trillion, almost four times larger than what was projected just a couple of months ago. And while the deficit should come down markedly after the emergency funds are spent, we are still looking at a deficit of nearly $1.5 trillion for the next several years.
To put this in context, the deficit is now likely to roughly manage the government's revenues this year. That means that for every dollar Washington collects in taxes and other revenues, it will be spending $2.