On MSNBC's Morning Joe today, Steven Rattner presented charts showing how the coronavirus crisis has rocked financial markets and re-ignited recession fears.
Stock markets plunged, oil prices collapsed and bond yields fell to new record lows – all in response to the spreading of the coronavirus. It was the worst day on Wall Street since the financial crisis, as a surprising oil price war pushed already worried investors over the edge.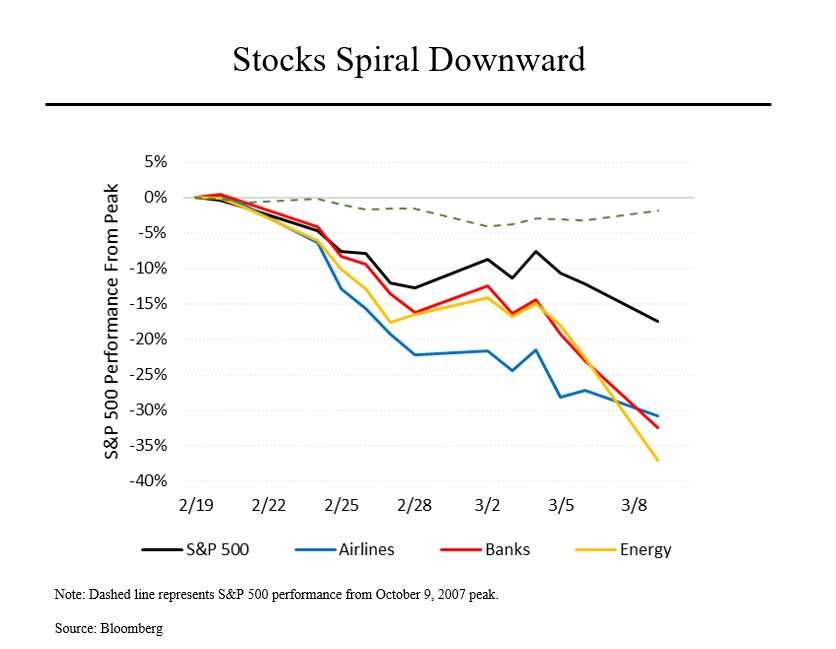 After a series of mostly downward lurches since the outbreak of the virus, the stock market went into free fall on Monday, a more than 2,000 point drop in the Dow Jones and a 7.6% decline in the S&P index. That brought the cumulative loss in value since share prices peaked February 19 to 19%. (A 20% decline is considered a bear market.)
Not surprisingly, the weakness has been led by sectors that are particularly sensitive to the forces now in play: airlines have been hurt from fewer travelers, banks suffer when interest rates decline and the oil price war between Russia and Saudi Arabia crushed energy companies. In that context, United Airlines is down by 41% since the market peaked, Citigroup is down by 34% and Occidental Petroleum is off by a stunning 71%.
All told, the loss of equity value has been markedly faster over a comparable number of days than during the 2008 financial crisis.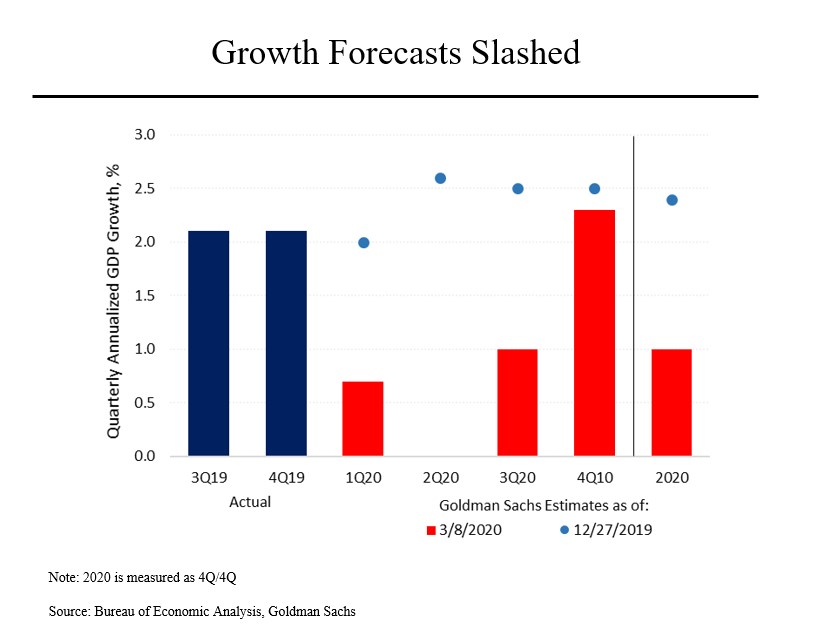 All of that has led economists to begin cutting their forecasts for economic growth. Goldman Sachs now expects a weak first quarter, no growth at all in the second quarter and only 1% growth in the third quarter, leading to a growth rate for 2020 of just 1%. That's down from the 2.4% that the bank forecast at the end of last year.
Other indicators are equally worrisome. For example, consumer sentiment, which had been strong based on a growing economy, has rolled over and begun an unusually steep decline. Apart from a fall in travel related areas like airlines and hotels, that may soon also be reflected in more substantial expenditures like car sales; General Motors stock has fallen by 29% since February 19.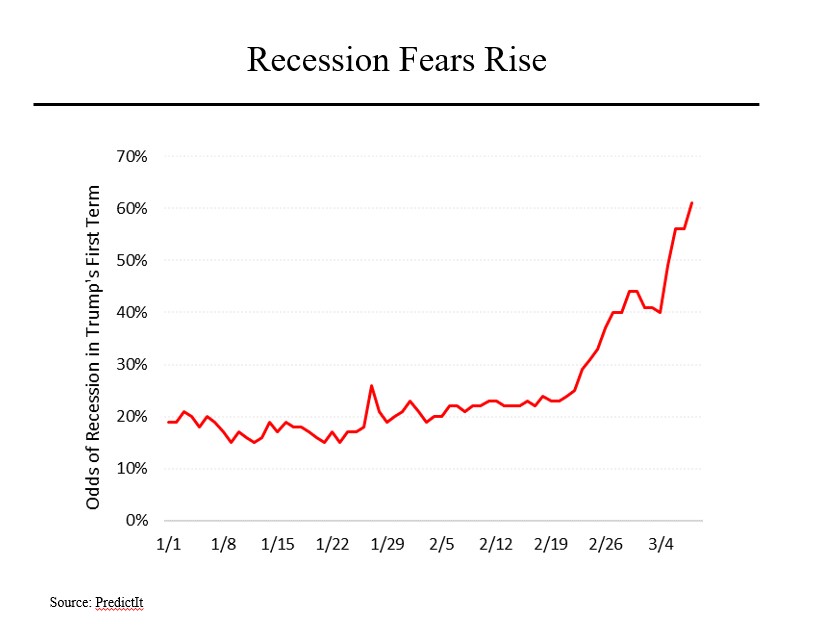 And things could well get worse. A number of recession indicators – like plunging bond yields – have begun to flash. Prediction markets are now putting a 64% probability on a recession during President Trump's first term, up from odds of less than 25% just three weeks ago. That said, it's important to remember that we often don't know whether an economy has moved into recession until many months after it occurs. In other words, even a recession in 2020 may not come in time to affect Trump's reelection prospects.