On MSNBC's Morning Joe today, Steven Rattner presented the latest 2020 campaign finance figures, which show that among the non-billionaire candidates, Sanders maintains a commanding, cash-flush lead.
Money isn't everything but in politics, it's something and by any measure, Bernie Sanders is winning the "money primary." The important consequence of that news is that Sanders will have a huge leg up over his rivals going into Super Tuesday (leaving aside, of course, the self-financed candidates, Michael Bloomberg and Tom Steyer).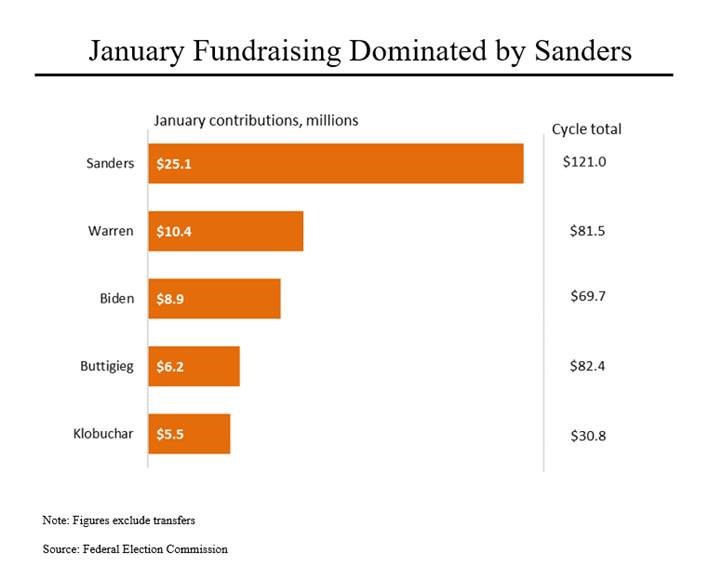 After stiff competition from Elizabeth Warren and Pete Buttigieg last year, Sanders pulled away from the pack in January, raising more than twice as much as any of his rivals. His total of $25.1 million stood in stark relief to the $10.4 million raised by Warren and still lower amounts raised by the other candidates. Looked at another way, Sanders raised more in one month than any of the other candidates raised in the last quarter of 2019 (three months!).
That brought his total for the cycle to $121 million, a full 50% more than Warren or Buttigieg – his closest rivals – raised through the end of January. Meanwhile, the early frontrunner, Joe Biden has raised about $69.7 million, about $10 million less than Warren or Buttigieg.
When February numbers become available, they are likely to show a pick-up in fundraising by several candidates. Notably, the Warren campaign has said that she has raised $17 million so far in February, in part due to a strong debate performance in Las Vegas. And Amy Klobuchar reportedly raised $12 million after her excellent outing in the New Hampshire debate, while Mayor Pete is said to have raised nearly that much. But given his strong results in the early contests and his equally strong debate appearances, Sanders is likely to continue to eclipse his rivals.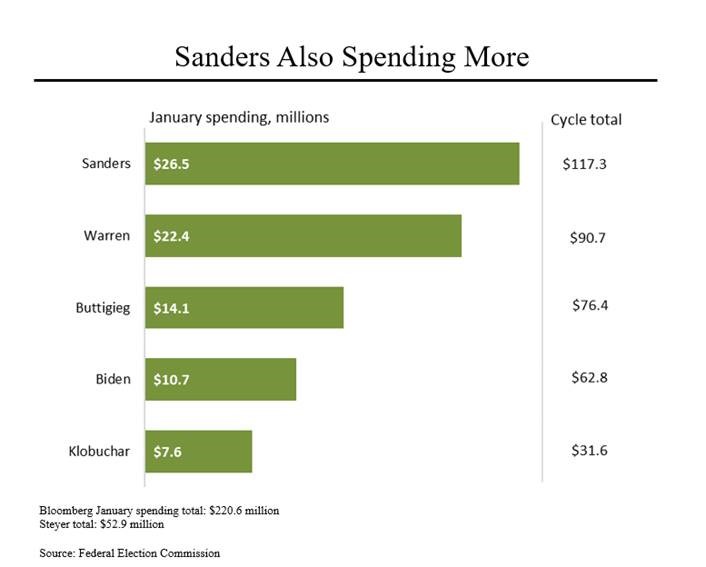 Not surprisingly, having more money generally means spending more. Accordingly, Sanders spent the most in January, followed by Warren and Buttigieg. Biden was only able to spend $10.7 million and Klobuchar even less, $7.6 million. All told, Sanders has spent roughly double what Biden has been able to afford.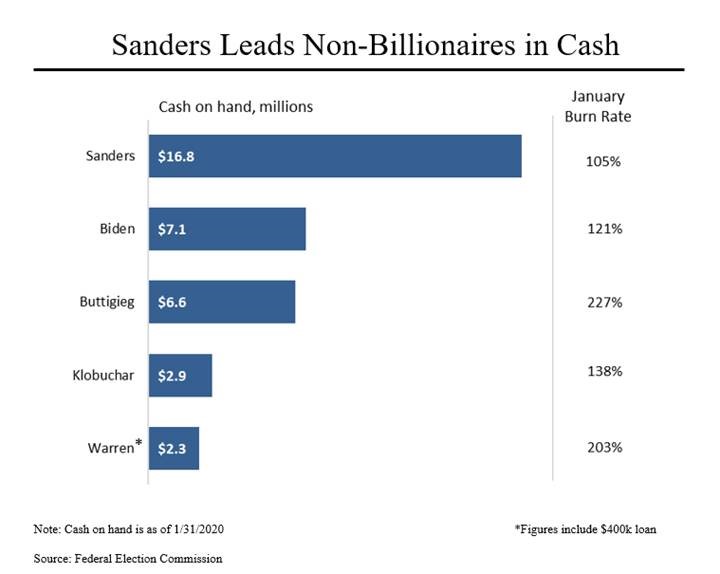 But because of his robust fundraising, even after spending the most, Sanders had the most cash on hand going into February. Biden and Buttigieg, the next two candidates in terms of money in the bank, had less than half of that. For Warren, with her relatively weak fundraising in January, the consequence of spending almost as much as Sanders during that month meant that she ended January with the lowest amount on hand. Indeed, her campaign arranged for a $3 million line of credit and borrowed $400,000 against it in January.
Note that in comparison to this cash on hand figures, President Trump's campaign and the Republican National Committee had more than $200 million in the bank at the end of January, while the Democratic National Committee had only about $10 million.