On MSNBC's Morning Joe today, Steven Rattner presented charts showing that while optimism has revived for a stronger economy next year, lagging conditions in key states may hamper Trump's 2020 election prospects.
Measured optimism has returned to the American economic outlook. That's partly because of policy actions like the retreat from the trade war and the Federal Reserve's interest rate cuts. And it's also because of improving global conditions; for example, modestly stronger economic results from China and greater certainty around the Brexit process. All of that should provide President Trump with a tailwind as the next presidential election looms.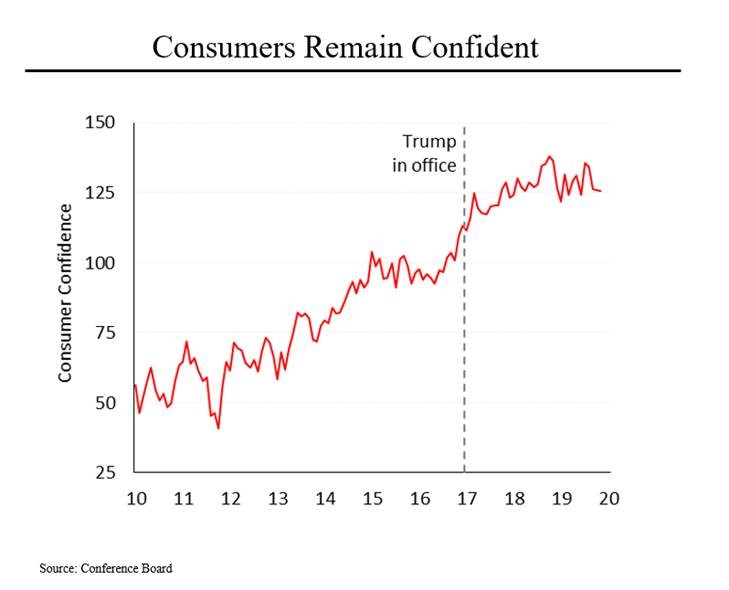 Many key economic indicators point to a continued recovery; one important example of this is consumer confidence, in large part because consumers have been powering economic growth. As this chart shows, consumer confidence rose steadily not just following the financial crisis but for the first two years of the Trump presidency. It wobbled a bit a year ago when the stock market corrected and the government shutdown lasted a record number of days. Since then, it plateaued around strong levels, even with impeachment continuing and the possibility of other irrational policy moves by President Trump.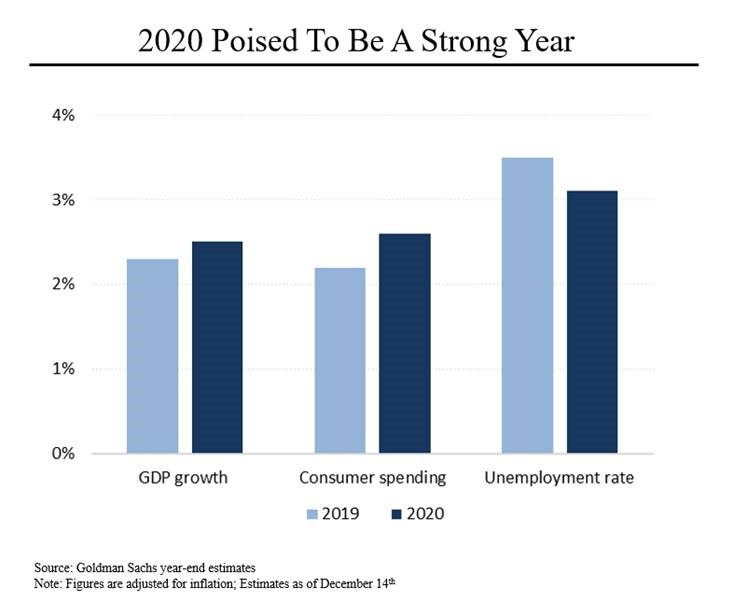 More importantly – at least politically – most economists are predicting that 2020 will be another year of reasonable growth. For example, Goldman Sachs – one of the more optimistic banks – sees growth (adjusted for inflation) in 2020 as likely to be modestly higher than it will be in 2019. At 2.5%, that's still a good distance from the 3%+ that Mr. Trump promised but should be enough to help the president at the ballot box. Similarly, Goldman believes that consumer spending (also adjusted for inflation) will accelerate a bit next year while the unemployment rate should continue to fall. If it declines to 3.1%, as Goldman projects, it would be the lowest unemployment rate since the Korean War.
Against this backdrop, fears of a recession in 2020 have ebbed modestly. From a high of 35% in September, the percentage of economists who expect a recession next year has dropped to 26%, according to a Wall Street Journal survey. On present course, expect that to continue to fall.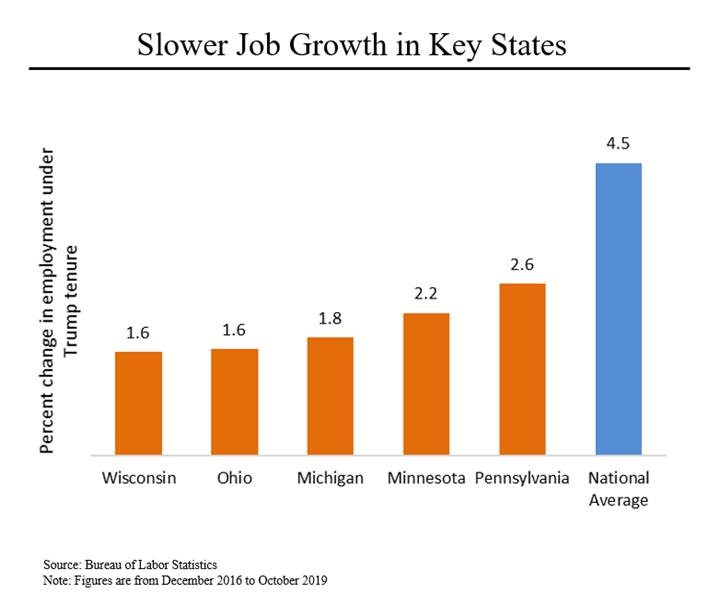 All that said, the economic news is not unambiguously positive for President Trump. Industrial production peaked last December. That has contributed to a subpar performance in key midwestern battleground states, where job growth under Mr. Trump has substantially lagged the national average. And while the unemployment rate is below the national average in Wisconsin and Minnesota, it is above 4% in Ohio, Michigan and Pennsylvania. Moreover, the number of manufacturing jobs has fallen this year in all of these states except Minnesota.
Whether that will influence voters in those states remains to be seen. The polls show very close theoretical match ups in those states.