On MSNBC's Morning Joe today, Steven Rattner used the recent appointment of Jared Kushner as "Wall Czar" to explain the current status of Trump's border wall, his unrealistic plans to build it and recent abatement of apprehensions.
Frustrated by the lack of progress on his border wall, President Trump has now turned over responsibility for building the wall to his son-in-law, Jared Kushner. Whether Mr. Kushner will succeed in his latest assignment remains to be seen; what is clear is that even as the end of the third year of the Trump presidency looms, little has changed along our border with Mexico.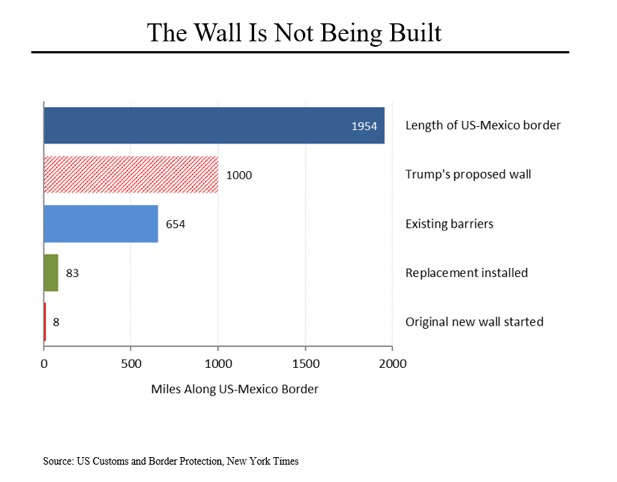 Starting with the big picture, the border between the United States and Mexico is 1,954 miles long. Of that, Mr. Trump has vowed to build a concrete or steel barrier along just over half of it, 1,000 miles. At present, only 654 miles of that total has any barrier, virtually none of it the type of impassable obstacle that Mr. Trump envisions. So far, he has replaced just 83 miles with more updated fencing. And only eight miles of completely new wall has been started, with just 32 feet completed.
Nonetheless, Mr. Trump has falsely claimed 218 times that "the wall is moving rapidly."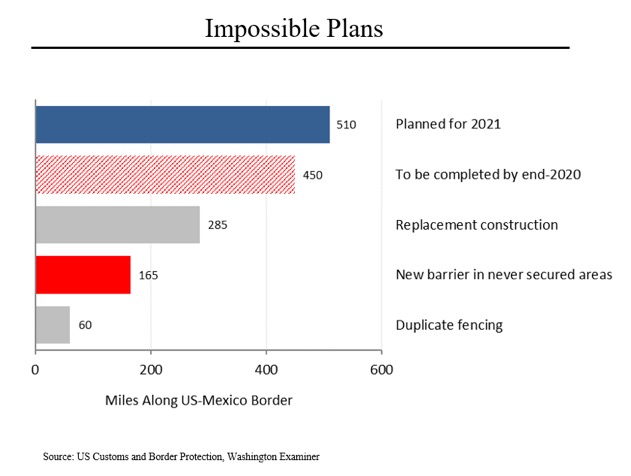 According to press reports, Mr. Trump is determined to finish 450 miles of new wall before the end of next year (in other words, in time for him to be able to declare success before the election.) Given the lack of progress to date, that will be a tall order. But the president's job will be made a little easier by the relatively little amount of truly new fencing that is expected to be built. Of the 450 mile target, 285 miles is simply replacing existing fence. Another 60 miles will duplicate existing fencing to make fleeing more difficult. That leaves just 165 miles of truly new wall.
Even this will be hard to achieve. Crews will need to erect a mile of new wall a day, at least four times faster than the current pace of construction. And the 165 miles of new wall will mostly be built on private land, which will require more than 800 filings to seize.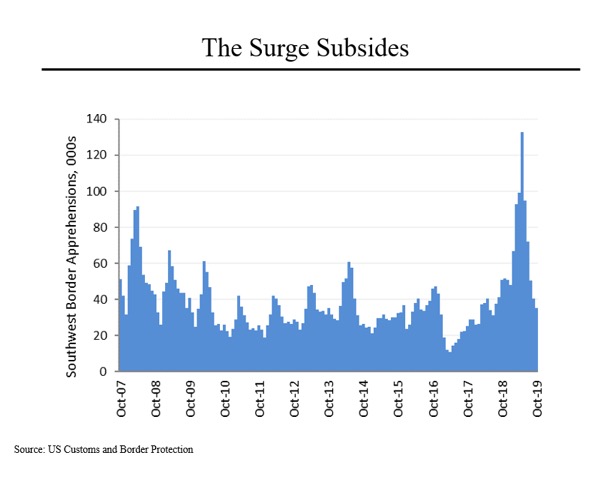 Ironically, all this is occurring at a time when the number of apprehensions has dropped precipitously. Recall that the pace of illegal crossings surged last spring as a result of a flood of emigrants from the so-called Northern Triangle countries of Honduras, Guatemala and El Salvador related to gang violence and other appalling living conditions in those countries. Some of the fall off is due to tougher policies that Mr. Trump instituted in the asylum process, including agreements made with the governments of the three countries to limit the ability to claim asylum in the United States. And some resulted from efforts by Mexico to stem migration north after Mr. Trump threatened to impose tariffs on imports from Mexico.