On MSNBC's Morning Joe Monday, Steven Rattner discussed the implications of President Trump's latest health care related executive orders that stand to adversely affect millions of Americans.
With Congress having failed to pass legislation to repeal and replace the Affordable Care Act, President Trump has launched a full-fledged effort – more than a dozen significant actions so far — to try to do administratively what the Republicans, who control both houses of Congress, could not accomplish legislatively.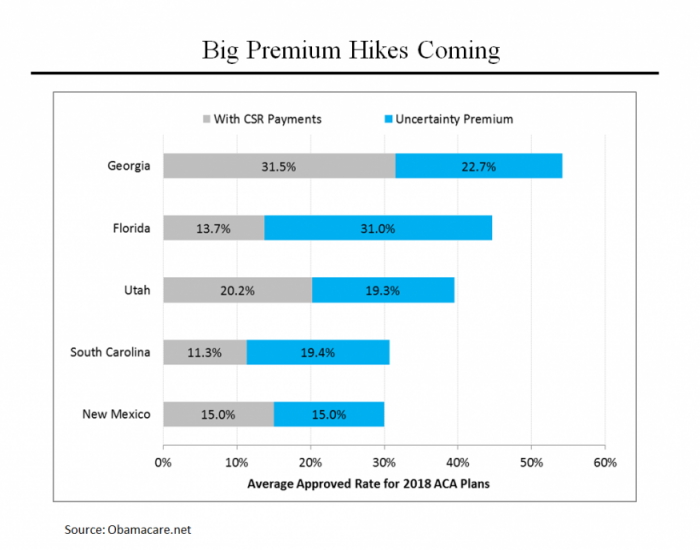 The most significant step to date was his decision to cease making $7 billion of annual Cost Sharing Reduction payments that had been instituted by the Affordable Care Act to help lower income Americans bear the cost of co-pays and other out of pocket charges as part of their health insurance. The impact of the payments, which will end next week, has yet to be felt but early indications of the impact are inescapable.
Most prominently, insurance companies, which have already had to file their 2018 proposed rate increases, built into their premium requests an additional amount to cover the loss of the CSRs, which are paid to the insurance companies to be used on behalf of these lower income individuals and families who purchase their insurance on the exchanges. As the above chart shows, these additional premium increases – on top of already hefty increases planned for 2018 – are huge: for example, 23% in Georgia, 31% in Florida, nearly 20% in both Utah and South Carolina and 15% in New Mexico.
And that may not be all. Some states are allowing insurance companies that did not anticipate the loss of the CSRs to refile with larger increases. In other cases, insurance companies may pull out of the exchanges altogether.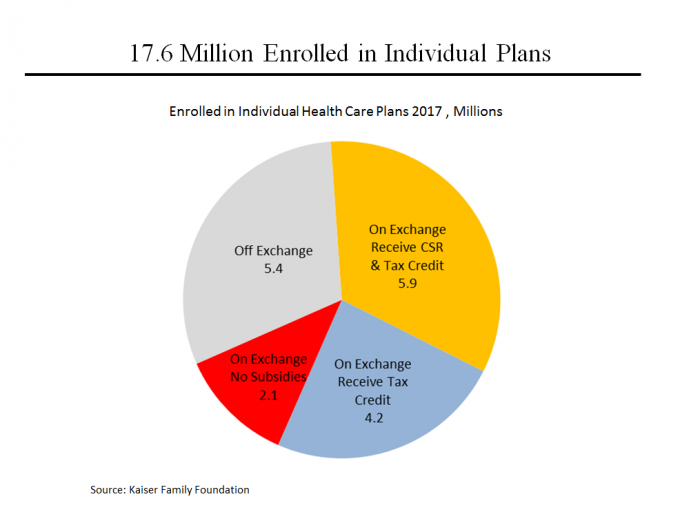 Who will this affect? Approximately 17.6 million Americans buy their insurance on an individual basis, either on the exchanges or directly from insurance companies. As indicated by the grey and red "pie slices," approximately 7.5 million Americans with somewhat higher incomes, who do not qualify for the premium tax credits, will feel the full brunt of these increases. The other 10.1 million Americans may not feel the impact directly, because the amount of their tax credits will go up, but if insurance companies start to drop out of the market, they could find that insurance is not available.
All told, the Congressional Budget Office estimates that this change alone will result in 1 million fewer Americans with insurance in 2018.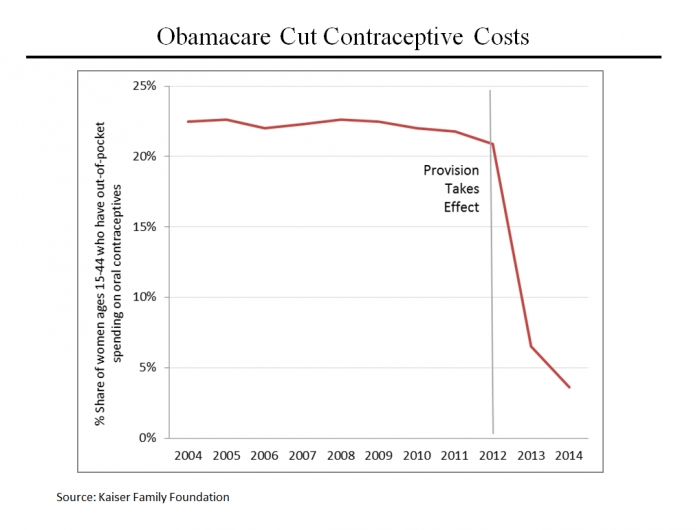 Another recent action by the Trump White House was to eliminate an Obamacare rule that women who are covered by employer insurance plans could not be charged out of pocket fees for contraception. As this chart shows, the imposition of this requirement in 2012 caused a drop in the share of women forced to bear part of their contraception fees from more than 20% before the passage of Obamacare to 3.6% at present.
In addition to these two examples, other actions by the Trump administration threaten the effectiveness of Obamacare. For example, the decision to allow small businesses to buy insurance through associations could result in many Americans losing coverage if they have pre-existing conditions or could result in some of the 10 essential benefits mandated by the ACA not being available.
Similarly, the cutback in funds for advertising and for a program known as the "navigators" – community-based organizations and individuals who helped consumers get enrolled – could lead to lower sign ups when the open enrollment period begins Nov. 1.
Finally, it's worth noting that by a 60 to 28% margin, Americans believe that responsibility for the health insurance system now rests with President Trump rather than President Obama, according to a recent poll by the Kaiser Family Foundation.