Originally appeared in the New York Times.
For the second consecutive Friday, the Trump administration had an opportunity to point to fresh data that supposedly demonstrates the strong boost the president's policies have given to the nation's economy. Last week, news that the gross domestic product expanded at a 4.1 percent rate in the second quarter occasioned a presidential appearance on the south lawn of the White House. Friday's announcement that 157,000 new jobs were added in July was marked more modestly, with a statement from the White House.
Yes, the economy is continuing to expand nicely, which all Americans should celebrate. But no, there's nothing remarkable in the overall results since Mr. Trump took office. Most importantly, there is little evidence that the president's policies have meaningfully improved the fortunes of those "forgotten" Americans who elected him.
Let's start with the jobs numbers. While the latest figures are certainly positive, the United States has been adding jobs since well before Mr. Trump took office. And the rate of job growth during Mr. Trump's first 19 months in office (194,000 jobs per month) is slightly less than the rate at which jobs were added during Mr. Obama's final 19 months (205,000 per month). So the good news on jobs is the same good news Americans have been hearing for the last three years.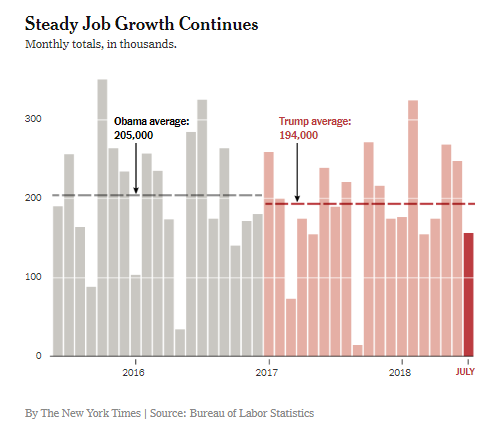 With each month's jobs figures, the Labor Department also releases the latest wage data, which often gets short shrift in the news accounts. That's unfortunate because for a majority of the roughly 150 million Americans who have jobs, the income picture is harsh and not improving.
After adjusting for inflation, wages have barely increased during the Trump presidency. When July's Consumer Price Index is reported next week, it is likely to show that whatever modest increase workers are getting in their wages continues to be eaten up by rising prices.
Over the first 18 months since Mr. Trump took office, real earnings, which reflect earnings after accounting for inflation, rose at an annual rate of just 0.3 percent.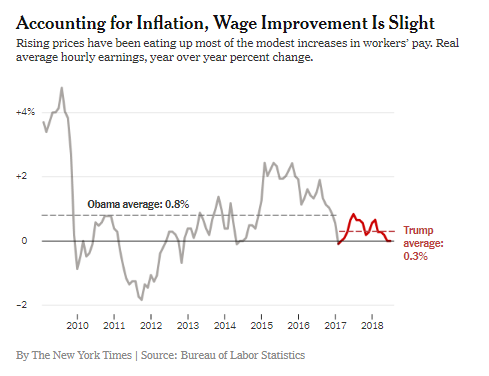 Then there's the matter of the seemingly stellar second-quarter increase in gross domestic product of 4.1 percent. That also requires context. For one thing, quarterly numbers can be volatile, and the most recent figure includes an unusual number of special factors.
Notably, there are the tax reductions and spending increases concocted by the Trump administration and Congress, which added an estimated 0.8 percent to quarterly G.D.P. growth while more than doubling next year's federal deficit to nearly $1 trillion.
Another one-time event propping up growth is the rush by farmers to export more soybeans, particularly to China, before July 6, the date when tariffs on soybeans went into effect. That accounted for about 0.6 percent of the growth in the second quarter, according to Pantheon Macroeconomics, a research firm.
Without these extraordinary interventions, the underlying rate of economic expansion in the second quarter of this year was about 2.7 percent, according to calculations by the Committee for a Responsible Federal Budget, a fiscal policy research and advocacy group.
Moreover, that 4.1 percent number isn't heroic. During the Obama presidency, the economy produced four quarters of growth that were higher. And the consensus among private and government forecasters is that the G.D.P. growth rate is likely to ebb quickly, once tariffs are actually in effect and the tax cut gains are all realized. Goldman Sachs, for example, forecasts that the annualized growth rate will fall to 3.3 percent in the third quarter and then taper down to 1.5 percent by the end of 2019.
Beyond all the facts and figures, let's not forget that the Trump administration's policies have done little for the average worker. Mr. Trump's tax cut delivered 84 percent of its benefits to business and to individuals with incomes above $75,000 a year. A typical middle-income worker will get a $930 reduction in his taxes this year, half of which will be consumed by higher gasoline prices.
That's the key lesson from all these numbers: Whatever claims Mr. Trump may make about the economy as the midterm elections approach, most Americans have yet to experience any improvement in their economic well-being. And there's little sign of that sorry situation changing. In fact, it could even get worse.