Biden needs to counter the president's positive economic approval ratings with the facts.
Originally published in the New York Times
By most measures, President Trump's poll ratings have long been loitering below the waterline, even more so since the pandemic swept through the United States, killing more than 220,000 and devastating the nation's economy.
That is, by most measures except one that has regularly been central to past elections: support for his handling of the economy. According to an average of recent polls compiled by Real Clear Politics, 50.5 percent of Americans approve of Mr. Trump's handling of the economy, compared with 47.5 percent who disapprove.
How can that be, in a nation with an unemployment rate — 7.9 percent — that remains deeply in recessionary territory?
For one thing, before the pandemic arrived, Mr. Trump used his loose relationship to the truth to hammer into accepted dogma the notion that he was responsible for creating "the greatest economy in the history of the world." The unemployment rate had fallen to a 51-year low, the economy was growing steadily (albeit slowly) and inflation remained subdued.
For another, the recent economic turmoil has had vastly divergent effects on different groups of Americans. Many have not been damaged financially or have even found their economic well-being improved. Think, for example, of those employed in companies with significant online revenues, those who own stocks and those who work in largely unaffected industries like technology.
To be sure, Mr. Trump's approval ratings on the economy have declined since the pandemic began, although from lofty levels well above those that prevailed during most of his term.
But the reality of Mr. Trump's economy is far different than his portrayal of it. For the first three years of his presidency, his economy amounted to nothing more than a continuation of the recovery engineered by President Barack Obama.
Job growth, for example, was faster during Mr. Obama's last three years than during the first three years of Mr. Trump's.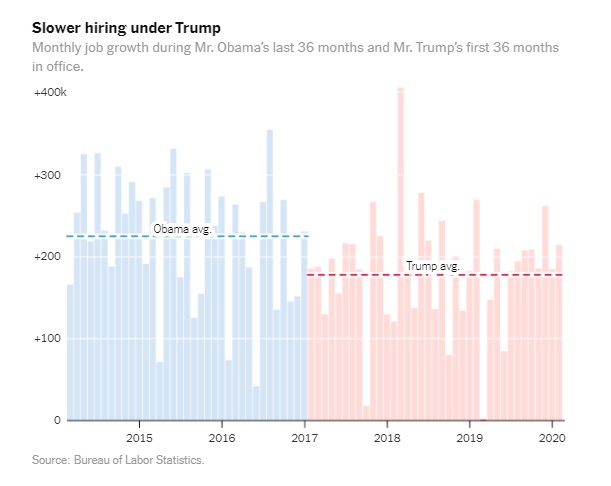 So was the pace of wage increases.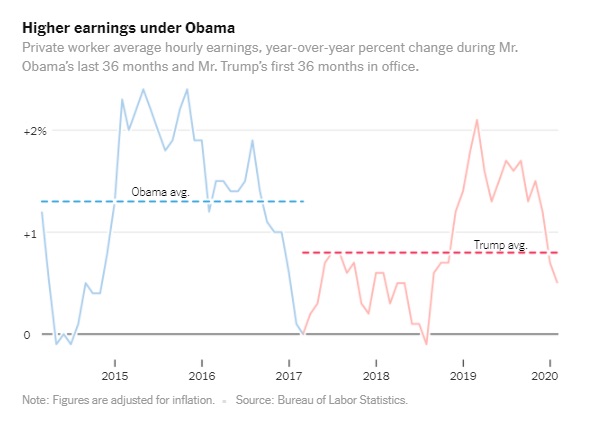 The economy expanded at roughly the same rate during the two periods — and never came close to Mr. Trump's promised "4, 5 or maybe even 6 percent."
Then came the virus. Mr. Trump's slow start and clumsy management no doubt contributed to unemployment rocketing to 14.7 percent and a second-quarter fall in gross domestic product of 9 percent, by far the largest since the Great Depression.
For months, Mr. Trump has been claiming that we are in a V-shaped recovery. That's just another lie. Yes, the economy is mending. But more like a backward check mark than a "V." Last month, only 661,000 jobs were created, bringing the total number returned to 11.4 million, just over half of what was lost.
When the third-quarter G.D.P. results are reported on Thursday, they will show a rebound that Mr. Trump has already begun to promote as "record-setting." But that improvement is likely to be only about two-thirds of the decline.
In his campaign rhetoric, Joe Biden has been understandably prosecuting most heavily Mr. Trump's failure to manage the pandemic crisis as well as the president's appalling lack of any moral character.
For its part, the president's team has indicated that he intends to make the economy a more central part of his closing argument. Mr. Biden needs to counter this — and ammunition is hardly lacking.
One real-time indicator — new claims for unemployment insurance — has been trending sideways for two months, nearly quadruple pre-pandemic levels.
Manufacturing, a centerpiece of Mr. Trump's promise to Make America Great Again, sits at its smallest share of G.D.P. in 73 years of data.
Then there's the trade war. At the end of December, Bloomberg Economics estimated that the trade war would cost the U.S. economy around $316 billion by the end of 2020. Meanwhile, Mr. Trump's tax cut has fallen wildly short of generating promised revenues or growth.
Even Wall Street firms — not often enthusiastic about expansive Democratic policy proposals — have made clear that Mr. Biden's agenda would produce superior results. Moody's Analytics recently estimated that the economy would expand faster under Mr. Biden, by a full percentage point if the Democrats also retake control of the Senate.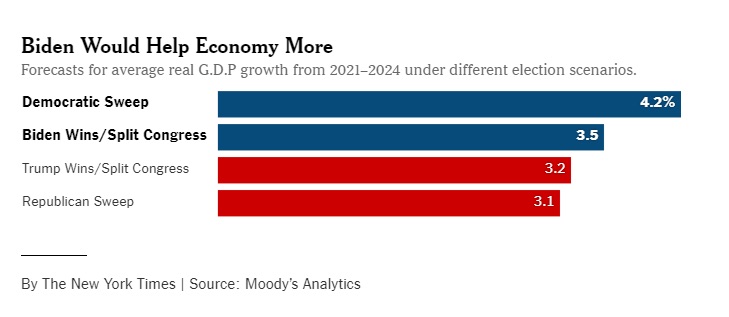 In that scenario, Moody's says, a Biden presidency would also mean 7.4 million more jobs created than under Mr. Trump, who would end his second term without unemployment having fully recovered.
Think about that: A leading independent forecasting firm says Mr. Trump could end his second term with America having fewer jobs than it had when Mr. Trump took office.
So please, Mr. Vice President, use your bully pulpit to convince voters that Mr. Trump's economy is on a ventilator and showing few signs of being ready to breathe on its own.