Tweets, trade wars, impeachment. Will all the commotion affect Trump's re-election chances in 2020?
Originally published in the New York Times
No denying, 2019 was a Year of Trump. His outsize personality, capricious decision making and tumultuous management style consistently put him center stage. The year's news was capped by Mr. Trump's becoming only the third president in history to be impeached by the House of Representatives. Alas, Ukraine and impeachment don't lend themselves to charts, but much of the rest of Mr. Trump's eventful year does.
---
Soaring Output of Rage and Self-Flattery
How the number of Trump tweets multiplied in 2019! The pace of the president's tweets — invariably his favorite means of communication — accelerated sharply as he came under siege following the release of the Mueller report and the opening of the impeachment investigation. From a comparatively sluggish pace of six tweets a day early in Mr. Trump's presidency, his Twitter finger became itchier and itchier, and is on track to reach a high of 40 per day just this month. His daily record: 123 — including 58 in a single hour — on Dec. 12, one day before the House voted for impeachment. All told, Mr. Trump's more than 13,000 presidential tweets include more words than James Joyce wrote in "Ulysses." More than half of the president's tweets have been attacks, while about 2,000 have been praise for himself.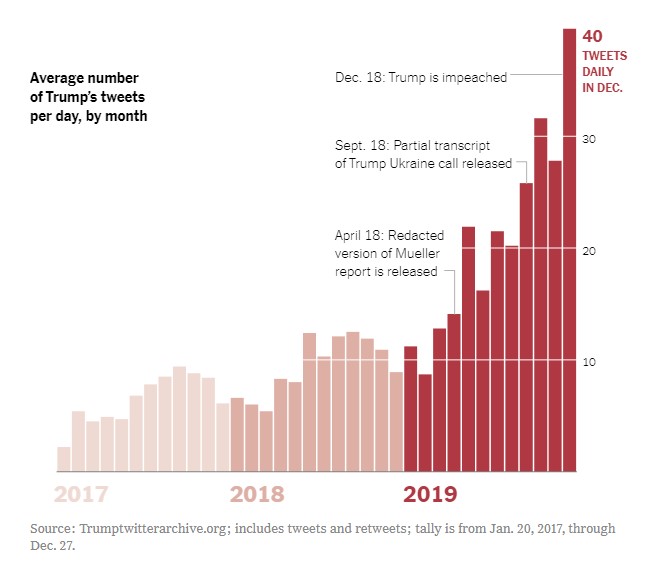 And the Lies Just Pile Up
Throughout Mr. Trump's career, veracity has never been his long suit. He has lied routinely almost from the start of the presidency, and — as with his tweets — the pace of his lies has accelerated as his difficulties have mounted. In the month before the midterm elections in 2018, he lied an average of 39 times per day. And almost as much in October of this year when his phone call with the president of Ukraine burst into the news. All told, as of mid-December, he had lied 15,413 times since becoming president, according to the Washington Post Fact Checker. Of particular note are his "Bottomless Pinocchios," falsehoods that he has repeated at least 20 times. He has earned 30 of those, with one lie — that the economy today is the best in history — having been repeated 242 times.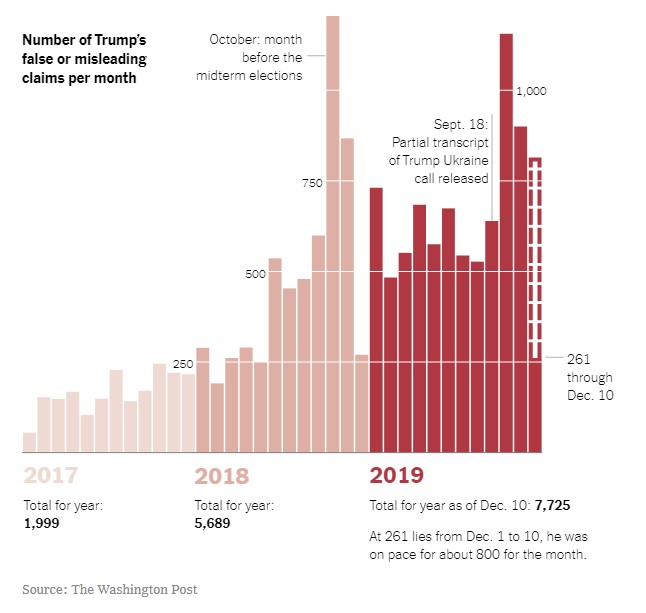 Three Years of Trump Disapproval
His appalling conduct in office has earned him the distinction of being the first president in modern history to have never achieved an approval rating above 50 percent in a Gallup poll. That's particularly remarkable given the reasonably strong performance of the American economy. Interestingly, Mr. Trump's favorability grade has stayed within a remarkably narrow band, a possible consequence of the deep polarization of the American electorate. Will that challenge him in his re-election bid? The two most recent incumbents approached decision day with approval ratings loitering below 50 percent. But neither had been so unpopular for so long, and all were more popular on Election Day than Mr. Trump is now.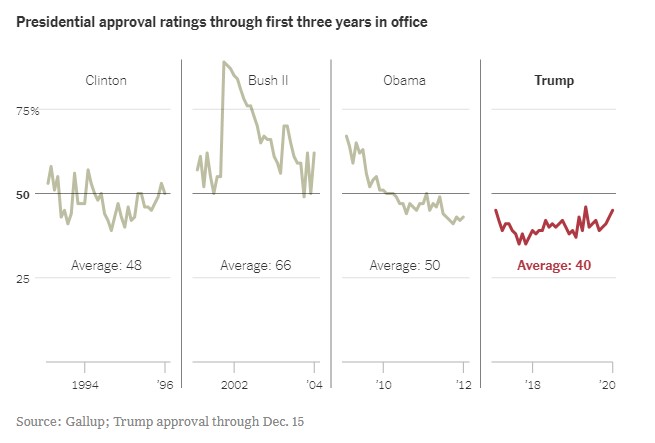 Tariffs Take Their Toll
As the 2020 election came into view, Mr. Trump appeared to be trying to wind down his trade war. He accepted changes demanded by House Democrats to win passage of his new agreement with Mexico and Canada. He announced a "phase 1" deal with China that allowed him to back off a threat to impose still more tariffs. And he retreated from a threat to add tariffs on steel and aluminum imports from Brazil. But much damage was done to consumers. Since the trade war started in early 2018, the prices of tariff-related goods rose by 3 percent, while the prices of other goods (excluding food and energy) have been unchanged.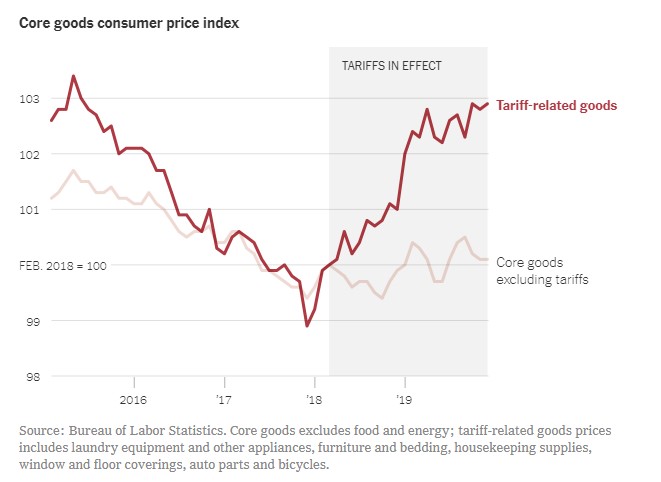 Welcome to the Manufacturing Recession
Consumers are not the only group to have been hurt by the trade war; the manufacturing sector was pushed into recession. The Institute for Supply Management manufacturing index has now been below 50 (the neutral level) for four months, in large part because of slowing global trade. That has dented business confidence and for a time seemed likely to drag down the broader economy. While those fears have ebbed, the number of factory jobs is barely growing and has contracted in some of the key 2020 swing states. Through November, Wisconsin, Michigan, Ohio and Pennsylvania had lost manufacturing jobs this year.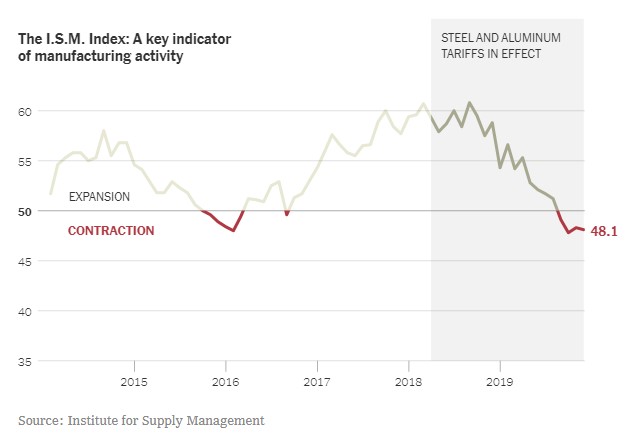 Business Leaders Are Not Happy
Interestingly, while consumer confidence remained strong in the face of the trade war and the resulting economic slowdown, business confidence was shaken. After rising with Mr. Trump's election, optimism among chief executives peaked early in his tenure and has dropped by 50 percent since then. That has had noticeable economic consequences: Investment, which grew smartly following the Trump tax cuts, began to slow and even turned negative in the second and third quarters of this year. With that slippage, investment has now grown more slowly under President Trump than it did under President Barack Obama after the recession hit bottom.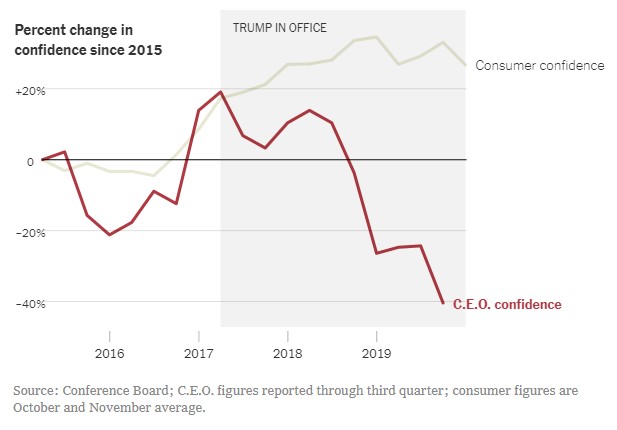 Still Not Besting Obama in Job Growth
The Great American Jobs Machine marched on in 2019, with an average of 180,000 jobs a month added (through November). And the unemployment rate dropped to 3.5 percent, the lowest since December 1969. But a few inconvenient facts lie behind those shiny statistics. For one thing, average monthly job growth during Mr. Trump's 34 months in office (193,000) was less than the 227,000 jobs added monthly during the last 34 months of Mr. Obama's tenure. For another, job growth was materially slower this year in Ohio and Michigan than it was nationally, and in three others — Wisconsin, Pennsylvania and Minnesota — the unemployment rate also rose. A key question: Will these heavily trade-war-related trends reverse before the presidential election?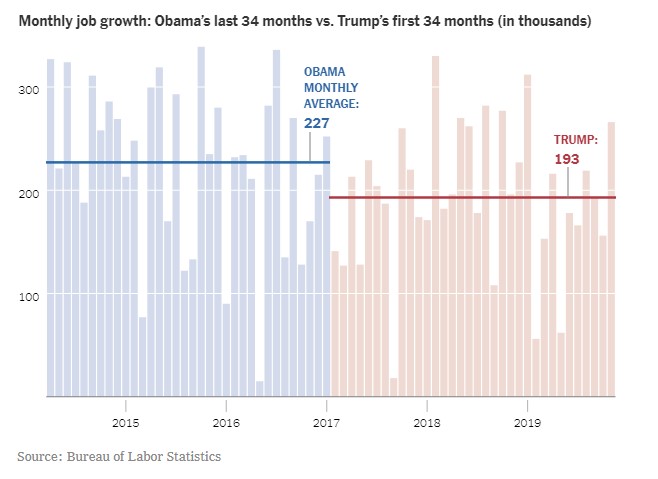 Remaking the Courts With McConnell
One of Mr. Trump's most significant and lasting "accomplishments" may be one of his least noticed ones: transforming the federal judiciary. That was made possible by the Senate majority leader, Mitch McConnell, who refused to confirm many of Mr. Obama's late appointments, changed the threshold for confirmation to 51 votes for Supreme Court nominees (thereby eliminating filibusters) and reduced the time allowed to debate each nominee to speed the process. The consequence: 187 judicial confirmations, the most of any president since before Ronald Reagan. Of particular significance were Mr. Trump's 50 appointments to the appellate courts; 28 percent of all of those judges — the last stop before the Supreme Court — have been appointed by Mr. Trump.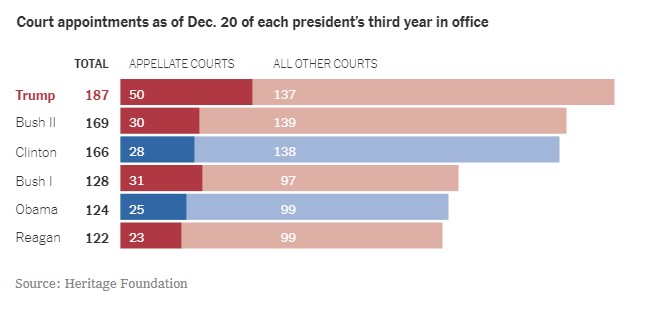 The Wall That Isn't
No, the border wall is not being built. Out of the 1,954-mile-long border wall with Mexico, Mr. Trump has replaced only 96 miles of existing barriers with sturdier ones and has started building just eight miles of entirely new wall, only 32 feet of which have been completed. At best, the administration hopes to complete 165 miles of truly new wall next year. So unhappy was Mr. Trump at this lack of progress that in November, he turned over responsibility for building the wall to his son-in-law, Jared Kushner. Nonetheless, Mr. Trump has falsely claimed 235 times that "the wall is being built."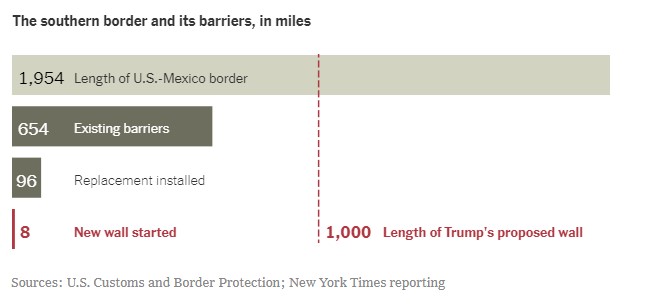 Harrowing Rise in the Deficit
The party that used to pride itself on fiscal responsibility (the Republicans) has thoroughly become the party of fiscal irresponsibility (aided and abetted at times by the Democrats). Mr. Trump's signature tax cut in 2017 added $3.1 trillion to the deficit over a decade, assuming extension of all provisions. This year he acquiesced to two budget deals — laced with extraneous spending and special-interest tax breaks — that will add another $2.2 trillion to the deficit over the decade. All told, measures passed under Mr. Trump's watch caused the annual deficit to more than double; it will exceed $1 trillion in the current fiscal year.