Donald Trump's multiple indictments and other legal challenges have had interesting consequences for his campaign fundraising and expenditures – and his standing with voters.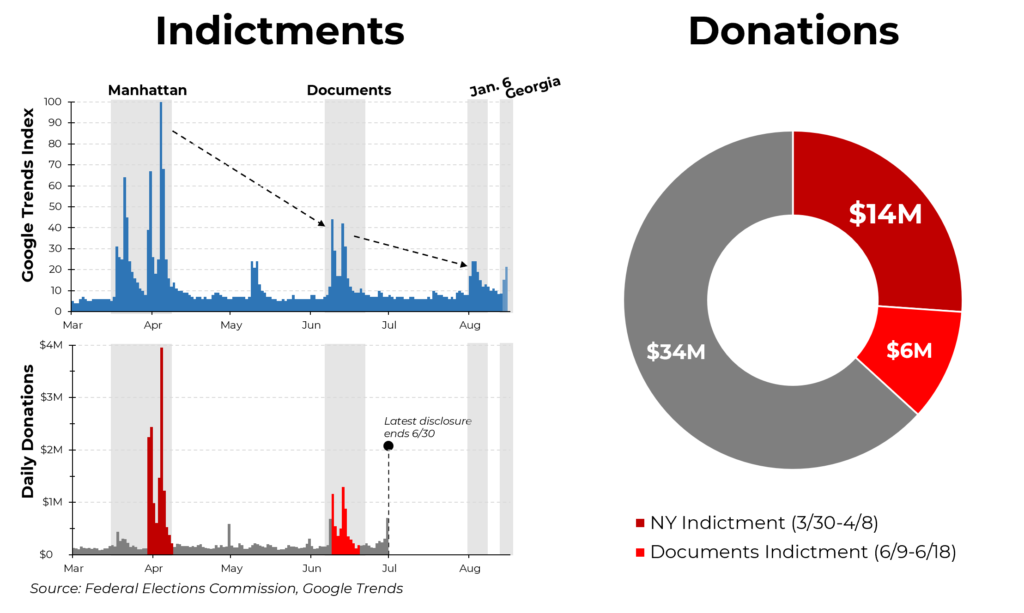 The former president's initial indictment in Manhattan triggered a huge surge in Google searches and a commensurately large increase in donations. His single most lucrative day was the day that he was arrested — $3.9 million raised. (The first spike in Google searches occurred when Trump announced that he was going to be indicted.) But interestingly, his second indictment produced a smaller increase in both Google searches and donations — $6 million raised, compared to a total of $14 million in the 10 days following the first indictment. (In a smaller vein, Trump got a modest bump in searches — although no jump in donations — in the wake of the E. Jean Carroll trial.)
While fundraising data since June 30 is not yet available, note that his indictment for the January 6 events produced a still smaller increase in Google searches, with the Georgia indictment looking to produce a similarly small increase in searches.
Trump's many legal challenges may not be good news for him in the long run, but, in the short run, it has been a major financial success. A total of $20 million of the $44 million that he raised online in the first six months of this year came in the immediate wake of his indictments.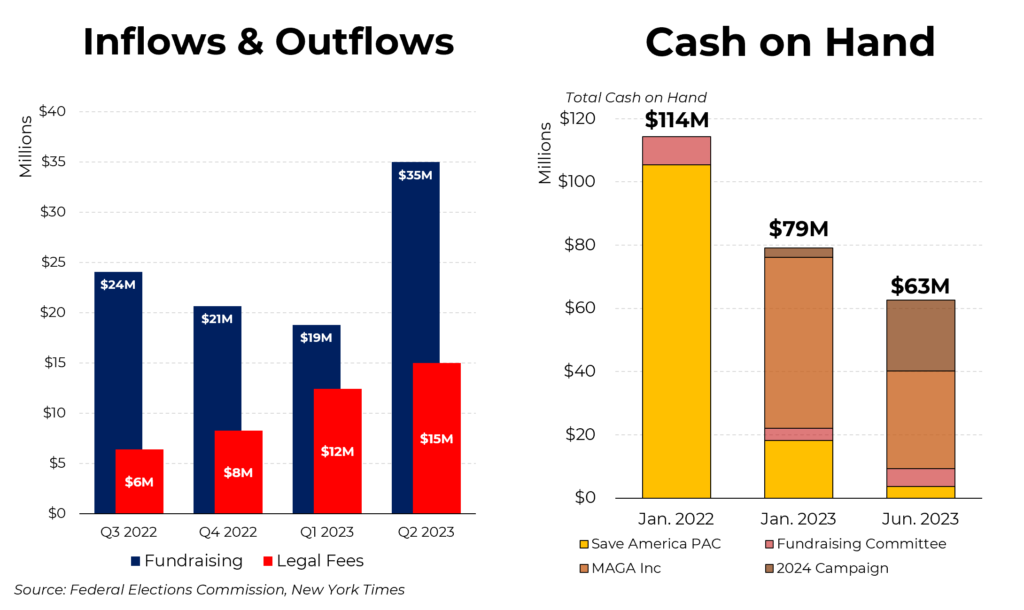 The financial bad news for the former president has been the mounting legal expenses for both him and other members of his team whose legal bills he has been paying. Of course, Trump has managed for these costs to not come out of his pocket but out of the pockets of his donors. Over the past six months, he has taken $27 million – mostly from his political action committee – just for legal fees, with more than $42 million used over the last year. As a result, his "Save America" PAC is down to $4 million in cash, compared to $105 million in hand in January 2022. Put another way, legal fees have amounted to just over half of all the money Trump has raised in the first six months of this year.
Another consequence of the high legal cost is that the Trump campaign's cash balances have been dwindling. Eighteen months ago, Trump had $114 million of cash in his two PAC's. Even with cash that is now being raised directly for his campaign, the cash balance has dropped to $63 million.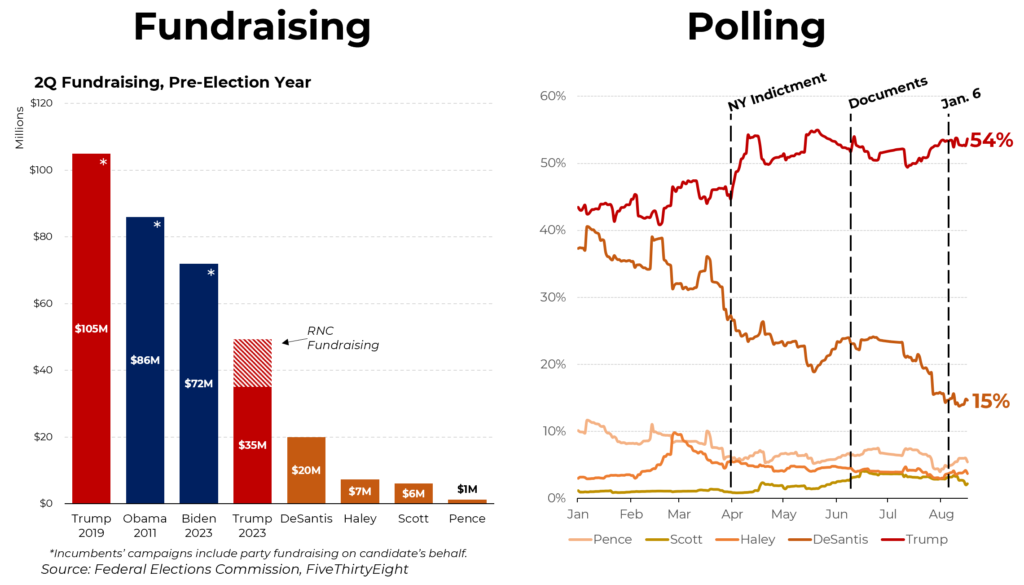 Interestingly, indictments notwithstanding, Trump has been raising money for his current campaign at a substantially slower rate than he did in 2019. In that race, he broke the previous presidential record (set by Barack Obama in 2011) by raising $105 million in the second quarter of 2019. This time around, he raised $35 million, with the Republican National Committee raising an additional $14 million. But Trump has substantially outraised his opponents; Ron DeSantis has raised $27 million, while Nikki Haley and Tim Scott have garnered $7 million and $6 million, respectively. And former vice president Mike Pence took in just $1.2 million.
Trump's fundraising outperformance relative to his competitors isn't surprising given his consistent strength in public opinion polls. But while his support jumped after his first indictment, it has remained at roughly 55% since then, even as DeSantis has fallen in the polls. (The most recent Morning Consult poll found Trump at 57%.)